XBinder
XML TO CODE GENERATION TOOL Efficient, Low Cost XML Data Binding and XML to Code Generation Speeds Your Project's Time-To-Market The complexity of producing well constructed, reliable class libraries from XML schema can challenge any project's timeline and staff productivity. The XBinder XML code generation tool substantially streamlines and simplifies a project's development and maintenance time by automatically serializing objects into XML and deserializing XML into C, C++, Java, or C# objects.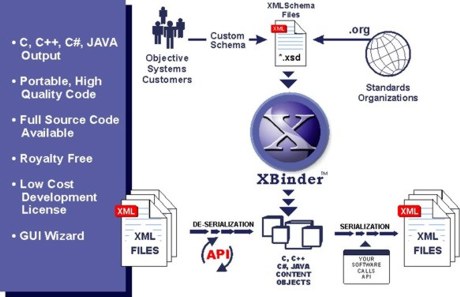 Why use an XML Data Binding or XML to Code Generation Tool?
XBinder's XML data binding offers the following advantages over traditional XML API's such as SAX and DOM:
Performance - Operations such as validation or (de)serialization are faster with code generated from XML schema then with validating parsers.
Simplicity - XBinder automates production of well constructed, easy-to-read code for faster time-to-market cycles.
Reliability - XML data binding applications assure the validity of generated XML documents by working at the schema level.